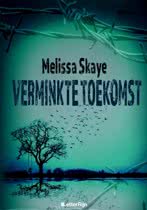 Verminkte toekomst
deel 4 in de VT reeks
Melissa Skaye
Rechercheur Sanne Philips is door haar vriendin in contact gebracht met Will de Jager, een man die ze best aardig wil vinden, maar ze heeft moeite met het feit dat hij helderziend is en soms hele rake dingen vertelt. Toch is ze ook geïntrigeerd: zou Will kunnen helpen met de zoektocht naar haar moeder? Het is intussen al bijna 25 jaar geleden dat zij verdween. En een tijdje terug ontving Sanne ineens een teken van leven: de ketting waarvan ze zeker weet dat die van haar moeder is. Het hoeft natuurlijk niet te betekenen dat haar moeder nog leeft, maar Sanne wil nu eindelijk wel eens zekerheid over haar lot.

Omdat ze net een moordzaak afgerond heeft, vindt ze dat ze die oude zaak wel kan heropenen. Zeker als Will haar er aan herinnert dat in de dezelfde tijd meerdere vrouwen verdwenen zijn. Als Sanne alle verwante onopgeloste zaken verzamelt, en op onderzoek uit gaat, ontdekt ze dat ook andere achterblijvers iets met de post hebben gekregen! Maar Sanne kan er niet helemaal in duiken, ze krijgt een andere zaak toegewezen: een jongen van zeventien is opgenomen in het ziekenhuis met onduidelijke symptomen, er is een verdenking van kindermishandeling. De zorgzame moeder wijkt echter niet van haar zoons zijde, een vader of andere familie is niet in beeld. Artsen staan voor een raadsel: wat is er met de jongen aan de hand?

Sanne werkt samen met Luca. Iets broeit tussen hen, maar Luca heeft een relatie, dus Sanne blijft op afstand.
En dan verdwijnt er opnieuw een vrouw. Is er verband met de verdwijningen van al die jaren geleden?

Terwijl we Sanne volgen in haar naspeuringen naar de vermeende kindermishandeling, en de verdwijningen, is er nog een verhaallijn. Die begint 25 jaar geleden en nadert langzaam het heden waar de verhalen samensmelten in een spetterende climax. De lezer heeft op deze manier wel ideeën over wat er met die vrouwen gebeurd is, de spanning ligt 'm in de vraag of Sanne enkelen van hen nog kan redden en daarbij zelf de dans ontsnappen kan.

Het verhaal van de jongen in het ziekenhuis, blijft heel lang los staan van de zoektocht naar de vrouwen, maar Melissa Skaye weet de verhalen op een ingenieuze manier te linken. Heel verrassend is dat, net als sommige andere wendingen. Er zijn veel subthema's die het geheel niet verstoren. Wel moet de lezer tegen een stootje kunnen, de details worden meer en meer luguber…

Het moge duidelijk zijn: het is een boeiende, spannende thriller, met op privégebied ook nog enkele verwikkelingen. Het blijkt het vierde boek te zijn in de serie VT-thrillerreeks waarin eerder Virtuele tango, Verboden tranen en Verleden tijd verschenen. Behalve van deze serie is Melissa Skaye (1972) auteur van de thriller In onschuld en van de fantasyreeks Jeremy Jago.
Het zou zomaar kunnen zijn dat er over Sanne en Luca nog meer verschijnt, niet alle draadjes zijn netjes afgemaakt.

ISBN 9789491875403 | paperback | 300 pagina's | Uitgeverij LetterRijn| november 2017
© Marjo, 13 februari 2018
Lees de reacties op het forum en/of reageer, klik HIER