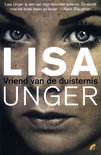 Vriend van de duisternis

Vriend van de duisternis is al weer de zesde thriller van Lisa Unger en het vervolg op Breekbaar waarin ze Jones Cooper, politieman in het provinciedorp The Hollows introduceerde. Opnieuw bewijst ze haar talent om in de huid van haar personages te kruipen en een enerverend verhaal neer te zetten. Cooper is inmiddels min of meer gedwongen met pensioen en verdoet zijn dagen in en om huis met klusjes. Hij is in therapie om verschrikkelijke geheimen uit zijn verleden onder ogen te zien. Bijna terloops raakt hij betrokken bij verschillende zaken, zoals de zoektocht van Michael Holt naar de waarheid rond de verwijning van zijn moeder, meer dan 25 jaar geleden. Cooper was destijds als politieman betrokken bij de opsporing van Marla Holt, maar de zaak ging als onopgelost de boeken in. Wanneer de net in het dorp woonachtige, spijbelende puber Willow Michael in het bos heimelijk ziet graven, wordt de zaak opnieuw opgepakt. Wat zocht hij daar?
En hij wordt door Paula Carr gevraagd om de biologische moeder van haar stiefzoon Cole te zoeken. Zij is spoorloos verdwenen nadat ze haar baan en haar huis is kwijtgeraakt. Cooper heeft het gevoel dat er meer zit achter haar verzoek; de jongen is toch veel beter af bij haar en haar echtgenoot?

Net als in Breekbaar zit de kracht van het verhaal niet in een spannend plot of in bloedstollende misdaden, maar in het vermogen van de auteur om de diepste geheimen van de ziel van de hoofdrolspelers bloot te leggen. Tot het laatst blijft het ongewis wie erdoor meegesleurd zullen worden en wie sterk genoeg is om te overwinnen.
Vriend van de duisternis is een thriller van de bovenste plank met krachtig neergezette, realistische personages. De plot is complex en opgebouwd uit verschillende, elkaar overlappende gebeurtenissen waarbij de levens van de dorpsbewoners steeds meer met elkaar verstrengeld raken tot het verleden het heden inhaalt.

Voor diegenen die Breekbaar niet hebben gelezen is Vriend van de duisternis goed zelfstandig te lezen, hoewel je naar mijn idee wel enige fijnere nuances in de verhoudingen mist. Aan de andere kant wordt er gelukkig niet te veel over het eerdere boek losgelaten, waardoor er nog genoeg nieuwsgierigheid naar Breekbaar overblijft voor diegenen die dat boek nog niet hebben gelezen.

ISBN 9789058315731 Paperback 338 pagina's | Muntinga Maarten | november 2011
Vertaling Mary Bresser
© Joanazinha, 13 december 2011
Lees de reacteies op het forum, klik HIER
---