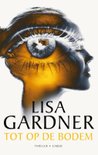 Tot op de bodem
Lisa Gardner

Het leek wel of de dronken vrouw haar luxe Audi Q5 regelrecht de afgrond in had gereden. De gloednieuwe auto had een flinke smak gemaakt maar toch was de ernstig gewonde vrouw erin geslaagd zichzelf uit het zwaar gehavende vehikel te bevrijden. Ze moest over een enorm doorzettingsvermogen beschikt hebben, want ze slaagde erin naar boven te klimmen, terug naar de weg waar ze vervolgens een automobilist staande hield.

Toen de met modder, bloed en whisky bedekte vrouw door de opgetrommelde ambulancemedewerkers op een brancard werd gelegd, werd ze ineens hysterisch. Volledig in paniek riep ze om een kind met de naam Vero. Ze beweerde dat ze het kind nergens kon vinden en dat het dringend hulp nodig had. Het eenzijdig auto-ongeluk veranderde op slag in een vermissingszaak. Vero moest zo snel mogelijk gevonden worden.

Brigadier Wyatt Foster spoedt zich naar de plek van het ongeluk. Als het meisje bij de gewonde vrouw in de auto zat, heeft ze wellicht dringend medische hulp nodig. Er wordt een speurhond ingeschakeld. Het beest gaat vol ijver aan de slag maar tot ieders grote verbazing eindigt het geurspoor op de plek waar de vrouw in de ambulance is gelegd. De hond pikt geen tweede geur op. Wie Vero ook is, ze zat niet bij de nog onbekende vrouw in de auto.

De gewonde vrouw heet Nicky Frank. Samen met haar echtgenoot Thomas is ze een half jaar geleden in North Country komen wonen. Het gaat niet goed met Nicky. Ze heeft een hersenschudding opgelopen en weet niet wie ze is. Haar man Thomas beschouwt ze als een vreemde. Nicky is behoorlijk in de war. Ze blijft maar wartaal uitslaan. Wie is Vero? Nicky en Thomas zijn al meer dan twintig jaar samen en hebben helemaal geen kinderen.

Wyatt heeft zijn handen vol aan de zaak. Nicky had in de nacht van het ongeluk weliswaar gedronken maar het alcoholpromillage in haar bloed was binnen de toegestane norm. Ze was dus niet dronken. De dranklucht die haar omringde was afkomstig van een fles whisky die tijdens het ongeluk was gesneuveld. Er duiken meer opmerkelijke feiten op en Thomas gedraagt zich ronduit verdacht. De afgelopen zes maanden heeft Nicky maar liefst drie "ongelukken" gehad waarbij ze keer op keer een hersenschudding opliep. Is Nicky werkelijk zo'n kluns of is er iets heel anders aan de hand? En wie is in vredesnaam de mysterieuze Vero?

In Tot op de bodem gunde Lisa Gardner me geen moment rust en dat is precies wat ik van een thriller verlang. Verbijsterende gebeurtenissen volgen elkaar in hoog tempo op. Steeds opnieuw lachte ik in mijn vuistje omdat ik meende te weten hoe het verhaal in elkaar stak, maar ik zat er telkens naast. Deze thriller laat zich niet makkelijk doorgronden maar omdat de auteur de informatie op precies de juiste momenten prijsgeeft, wordt het nergens ingewikkeld. Alles is uitstekend te volgen en elke bladzijde doet snakken naar de volgende.

Dat Lisa Gardner kan schrijven, is geen verrassing maar Tot op de bodem is dat wél. Het vorige boek van Lisa Gardner – Zonder angst – vormde mijn eerste kennismaking met deze schrijfster en ik verwachtte dan ook een goede thriller. Dit boek heeft mijn verwachtingen echter ruimschoots overtroffen. Het is niet alleen goed maar zelfs uitstekend. Alles aan deze uiterst spannende thriller is intrigerend. Ook de personages zijn zorgvuldig gekozen. Wyatt is een slimme en gezond achterdochtige politieman, Thomas is ondoorgrondelijk, Nicky is labiel maar dapper en Vero een waar mysterie. Het verhaal liet me geen moment los en de nimmer afwezige spanning sloeg op me over. Zo hoort een thriller te zijn!

ISBN 9789023495499 | paperback | 432 pagina's| Cargo | maart 2015
Vertaald door Els Franci-Ekeler
© Annemarie, 2 maart 2016
Lees de reacties op het forum en/of reageer, klik HIER