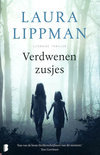 Verdwenen zusjes
Laura Lippman


'Ik ben Heather Bethany'. Met die naam rakelt de onbekende, verwarde vrouw die bij een auto-ongeluk betrokken raakt, een 30 jaar oude zaak op van de verdwijning van de 12-jarige Heather en haar 15-jarige zusje Sunny Bethany uit een druk winkelcentrum in Baltimore. Er is nooit een spoor van hen teruggevonden. Het huwelijk van hun ouders was al wankel en is door deze vreselijke slag helemaal ingestort. Inmiddels is hun vader Dave overleden en is moeder Miriam na enkele omzwervingen in Mexico terechtgekomen.

Nadat ze min of meer per ongeluk de naam Heather Bethany heeft genoemd, weigert de vrouw verder licht op de zaak te werpen. Waar is ze bang voor? Waarom wil ze niet praten zonder een advocaat aan haar zij? Is deze vrouw echt het verdwenen meisje Heather? Wat is er 30 jaar geleden gebeurd en belangrijker nog: waar is Sunny?

De geschiedenis van de meisjes en het gezin waarin ze opgroeiden wordt op niet-chronologische wijze gepresenteerd. Daarbij lijkt de familie Bethany voor de buitenwereld een gesloten front te zijn: 'het gezin is een eenheid, dus doen we alles samen'. Dat dit een broos front is blijkt wanneer de meisjes verdwijnen en Dave en Miriam hun huwelijk voor hun ogen zien afbrokkelen.

De onderhuidse spanning die als een jeukerig plekje steeds aanwezig is, maar die je niet kunt grjipen, wordt langzaam opgebouwd. Tot je, net als de lompe maar zeer bekwame inspecteur Infante nog maar één ding wilt weten: WAT is er precies gebeurd 30 jaar geleden en WIE is die onbekende vrouw.
Door middel van flashbacks waarin de verhalen van alle betrokkenen door de jaren heen worden verteld, worden heden en verleden aan elkaar geknoopt tot een onverwacht slot.
Jammer alleen dat die ontknoping enigszins afgeraffeld wordt om alles maar te kunnen verklaren.

Laura Lippman's schrijfstijl is vlot en toegankelijk en leest prettig. Echter, doordat ze niet de focus op 1 persoon richt maar alle karakters in het drama een stem wil geven, creëert de auteur ook een afstand tot de personages. Er is niet direct een 'slachtoffer' waarmee je je kunt identificeren – zelfs niet met de verdwenen zusjes – of een grote held waar je het verhaal aan op kunt hangen. Ook de niet altijd even logische sprongen in de tijd zetten de lezer af en toe op het verkeerde been.
Afgezien daarvan is Verdwenen zusjes een aantrekkelijk verhaal dat leest als een spannende roman. Een titel om te onthouden voor een paar genoeglijke en ontspannen leesuren.

Verdwenen zusjes is eerder (2009) verschenen onder de titel 'Wat de doden weten'.
Geheimen uit het verleden van de hoofdpersoon die in het heden weer opduiken en diens hele leven overhoop gooien zijn een centraal thema in de boeken van Lippman, ook in haar nieuwste boek dat in september verschenen is (Als ik weg ben). Daarnaast heeft zij een serie boeken geschreven met ex-journaliste en privé-detective Tess Monaghan. Hiervoor heeft zij vele prijzen gewonnen, o.a. de Agatha-Award en de Edgar-Award.

ISBN 9789022573259 | Paperback | 381 pagina's| Boekerij | maart 2015
Vertaald door Mariette van Gelder
© Joanazinha, 24 oktober 2015
Lees de reacties op het forum en/of reageer, klik HIER