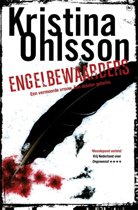 Engelbewaarders
Kristina Ohlsson

Dit is het derde boek over Alex Recht en z'n team. Het begint met een proloog, waarin een vrouw een film bekijkt, waarin te zien is dat een jonge vrouw vermoord wordt. De vrouw bekijkt de film verschillende keren en herkent het tuinhuis van haar ouders, waar de film kennelijk is opgenomen. Ook de gemaskerde moordenaar herkent ze.

Dan springt het boek naar het heden en na een citaat uit een getuigenverhoor met Alex Recht, lezen we hoe een man met een hond een lijk vindt.
Dan volgt een getuigenverhoor met Frederika Bergman, waarin al vooruit wordt gelopen op de afloop van het verhaal. Zo lezen we dat de partner van Frederika, met wie ze een dochter heeft, aan is gehouden en dat Jimmy, de broer van Peder Rydh dood is. Jimmy heeft door een val van een schommel een hersenbeschadiging opgelopen en is min of meer stil blijven staan in z'n ontwikkeling. Hij verblijft in een tehuis en heeft een sterke band met Peder, zoals we ook in de voorgaande delen van deze serie hebben kunnen lezen. Later volgen er meer stukken van getuigenverhoren, die mij in het begin het gevoel gaven dat er dingen van de plot werden weggegeven, die ik misschien liever nog niet had gelezen.

Het privéleven van de hoofdpersonen raakt dit keer zeer verweven met de zaak waaraan gewerkt wordt. Het gevonden lichaam is van een jonge studente, die 2 jaar geleden vermist is geraakt. Het lichaam is in twee stukken verdeeld en het hoofd en de handen ontbreken. Later worden er in dezelfde omgeving nog 2 lichamen gevonden, van mensen die al veel langer dood zijn. Het eerste lichaam is van een man en het tweede van een vrouw, die al 40 jaar dood moet zijn.

Het verhaal lijkt te draaien om de kinderboekenschrijfster Thea Aldrin, die in de gevangenis heeft gezeten, omdat ze haar man vermoord heeft. Bovendien is haar zoon vermist en de politie vermoedt dat zij die ook gedood heeft. Met name commissaris Torbjörn Ross is hier heilig van overtuigd.
Thea Aldrin wordt ook gezien als de auteur van 2 zeer gewelddadige pornografische boeken. Na haar veroordeling heeft ze nooit meer gesproken. In het verzorgingshuis, waar ze na haar verblijf in de gevangenis in terecht is gekomen, wordt ze als excentriek gezien, een zwijgzame eenzaat, die regelmatig bezoek krijgt van Torbjörn Ross, die nog steeds hoopt een bekentenis van haar te krijgen, dat ze ook haar zoon vermoord heeft. Bovendien krijgt ze wekelijks bloemen van een onbekende, met een briefje, waarop 'Bedankt' staat.

In het verzorgingshuis waar Thea Aldrin woont is ook een medewerkster, die onder druk wordt gezet door een onbekende man, om de voormalige schrijfster in de gaten te houden en te melden van wie ze bezoek krijgt. Zo krijgt de lezer weer allerlei puzzelstukjes, die langzaam op hun plaats vallen.

Kristina Ahlsson is er weer in geslaagd om een boek te schrijven dat de lezer vrijwel tot het einde toe weet te verrassen. Of we aan het einde van het verhaal ook werkelijk alles te weten zijn gekomen, blijft de vraag. In het laatste hoofdstuk bekijkt een man de film, die ook aan het begin van het boek bekeken wordt. Wie die man is, wordt niet vermeld. Dat mag de lezer zelf bepalen. Is het iemand die we al eerder zijn tegengekomen, of is het een onbekende?

De stukken van de getuigenverhoren blijken uiteindelijk minder storend te zijn, dan ik aanvankelijk dacht. Weliswaar worden er een paar dingen weggegeven, maar veel blijkt uiteindelijk toch net iets anders in elkaar te zitten, dan je denkt. Het is het verhaal van een zaak, waarin verschillende dingen mis lopen, onder andere door gebrekkige communicatie. Dat men het idee heeft dat er fouten zijn gemaakt, blijkt ook uit de getuigenverhoren.


ISBN 978 90 443 3502 6 | Paperback| 398 pagina's | House Of Books | augustus 2012 |
Vertaald door Ron Bezemer
© Renate 12 juni 2019
Lees de reacties op het forum en/of reageer, klik HIER