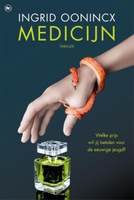 Medicijn
Ingrid Ooninckx

De vijfendertigjarige Ella Vreeland werkt op een reclamebureau. Als creatief directeur is ze behoorlijk succesvol. Ze heeft een prima campagne gelanceerd voor de man met wie ze een verhouding kreeg, David Muller. Als hij plotseling overlijdt, is Ella behoorlijk van slag. Hoe kan dat nou? Hij was wel veel ouder dan zij, maar erg viriel en fit. Als de politie het een verdacht overlijden vindt, Davids vrouw vermoord wordt en Ella gevolgd wordt door een onbekende in een zwarte SUV begint een spannend avontuur. Ella gaat op onderzoek uit: wie wilde David dood hebben en waarom?
Ze herinnert zich dat hij zich de weken voor zijn dood vreemd gedroeg, maar zij dacht dat er een ander was. Ze had hem er op betrapt dat hij met een andere vrouw contact had, een beroemd fotomodel.

Ella ontdekt dat David vaak in Italië was, in een soort retraiteoord hoog in de bergen. Ze gaat er heen, en wordt binnen gelaten in een zwaarbeveiligde kliniek, waar een groep rijken uit de hele wereld regelmatig komt om een bepaalde behandeling te krijgen. De leider, een wetenschapper met de naam Jacob Grünberg, blijkt een bijzondere interesse te hebben voor Ella. En dat is niet alleen vanwege haar beroep, al wil hij ook dat ze zijn product op een spectaculaire manier promoot. Als Ella er achter komt wat hij daar precies fabriceert, en vooral op welke manier, wil ze hem alleen maar dwarsbomen, en zijn handelingen openbaar maken. Dan komt er vanzelf een einde aan, denkt ze. Het zal anders lopen.
Haar gedrag leidt tot gevaarlijke situaties. Niet alleen Grünberg wil de macht over haar hebben, er zijn nog andere partijen die het op haar gemunt hebben.

Het is de vraag of we behoefte hebben aan een medicijn zoals hetgeen waarvan in het boek sprake is: een middel om nooit oud te worden. De eerste reactie is natuurlijk een positief antwoord, maar als je er over na gaat denken, dan zijn er toch vele haken en ogen. De ethische kant van de zaak wordt evenwel helemaal niet toegelicht. Het gaat alleen om macht en geld. Het maakt het verhaal onevenwichtig, en enigszins ongeloofwaardig. Ook is het best wel vreemd en toevallig hoe Ella in bepaalde situaties verzeild raakt, en vooral hoe ze er ook heel toevallig weer uit geraakt. Er is ook nog een demente moeder, maar die lijkt meer als bladvulling te dienen

Wil je gewoon een lekker verhaal, met veel spanning en sensatie, dan is dit een prima boek. Voor lekker ontspannen onder de palmboom of zo.

ISBN 9789044345599 | paperback| 320 pagina's | Uitgeverij The House of Books| januari 2016
© Marjo, 14 juni 2016
Lees de reacties op het forum en/of reageer, klik HIER