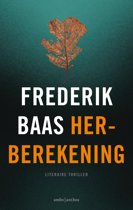 Herberekening
Frederik Baas

Wat doe je als je bij een niet afgesloten auto staat en je hoort een dwingende stem steeds herhalen 'Rij naar de gemarkeerde route.'
De negentienjarige Leon stapt in en rijdt weg, hij volgt de stem, die vanaf dat moment de weg wijst.
Natuurlijk doet hij dat niet zomaar, er gaat iets aan vooraf wat hem die stap doet zetten. Bij die auto is hij even geleden een meisje tegengekomen, dat hij kent van school. Hij was verliefd op haar, maar heeft dat nooit tegen haar gezegd. Yousra vertelt dat ze voor haar oom werkt, en dat ze even papieren af moet geven. Eigenlijk is Leon onderweg naar een kruidenier om daar te solliciteren, maar dat kan wel even wachten. Want als dat meisje hem vraagt om even op de auto te passen en zij de motor laat draaien, kan hij toch zomaar niet weglopen? Leon wacht en wacht, maar het meisje komt niet terug. Zo komt het moment dat hij in stapt, nog even rondrijdt, en dan zomaar spontaan doet wat de blikken stem zegt. Hij heeft geen idee waar hij naar toe gaat.
Op dat moment weet de lezer wel dat deze jongeman niet de super slimste is. Bovendien was het op school al zo dat hij alles deed voor dit meisje. Als ze vroeg even dit of dat weg te brengen, deed hij dat. En zo doet hij dat nu ook, ontdekt hij, want er blijkt iets in de laadruimte te staan.
Hij vindt het prettig om auto te rijden, zo lang heeft hij zijn rijbewijs nog niet. Even heeft hij bedenkingen als de stem hem de grens over laat gaan, maar zelf nadenken is niet een van zijn talenten. Doen wat mensen hem opdragen wel. Vooral als het meisjes zoals Yousra zijn! En de stem lijkt toch wel op die van Yousra...

'De auto ergens naar toe rijden geeft voldoening. Daar aankomen, dat voelt heel goed.'

Hij beseft wel dat er iets niet in de haak is. Laat hij nu toevallig (!) een schroevendraaier op zak hebben en tenslotte geeft hij toe aan zijn nieuwsgierigheid. Is zijn ontdekking een reden om terug te keren? Of blijft hij de stem volgen?

Het verhaal wordt met terugwerkende kracht verteld. Leon zit op het politiebureau.

'Ze hebben me opgepakt en naar deze kamer, in dit gebouw, in deze stad gereden. In dit idiote land. Er is zoveel gebeurd de afgelopen dagen, het zal moeilijk zijn dat allemaal helder te krijgen, zeker voor mij.'

Hij heeft de opdracht gekregen om steekwoorden op te schrijven, en dat zijn dan de titels van de hoofdstukken geworden. De lezer wordt er steeds op subtiele manier aan herinnerd waar Leon zich bevindt, terwijl een krankzinnig verhaal zich langzaam ontvouwt.
Is Leon werkelijk zo dom als hij zich voor doet? Wat wil dat meisje van hem?

Behalve het avontuur lezen we ook summiere informatie over wie Leon is, zoals ook zijn fascinatie met de Pirates van de Caribbean een rol speelt. En dan dat einde! Na een origineel verhaal laat Frederik Baas de lezer verbijsterd achter…

ISBN 9789026340178 | Paperback | 221 pagina's | Ambo Anthos| april 2018

© Marjo, 17 april 2018
Lees de reacties op het forum en/of reageer, klik HIER