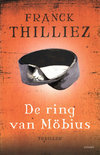 De ring van Möbius
Franck Thilliez


Boven ieder hoofdstuk staat een soort klok, een weekaanduiding, met tekst. De schrijver wijst de lezer er op dat goed in de gaten te houden. Doen we dus. Dan blijkt dat aanvankelijk in die tijdsaanduiding aangegeven wordt wanneer de hoofdpersoon, Stéphane, droomt. Dat is op een eerder tijdstip dan dat de gebeurtenissen in realiteit plaatsvinden. Hij heeft voorspellende dromen, vreselijke dromen, die je niet uit wil zien komen: een dood meisje, gruwelijke toegetakelde vrouwen. De dromen zijn levensecht, Stéphane is er zelf de hoofdpersoon in, en er is een chronologisch verloop. Natuurlijk wil hij niet dat zijn dromen uitkomen en hij zal alles op alles zetten om dat te voorkomen.

Dan hebben we politie-inspecteur Victor, kort Vic, die net met zijn vrouw in Parijs is aangekomen en als groentje meteen al op een vreselijke zaak wordt gezet: er is een vrouw gevonden, die op een beestachtige manier om het leven is gebracht. Voor Victor is dat niet het enige probleem. Zijn vrouw, zwanger van hun eerste kind, vindt het maar niks dat hij nauwelijks thuis komt, en collega's pesten hem omdat hij kruiwagens gehad zou hebben voor deze aanstelling.
Stéphane en Vic zullen elkaar tegenkomen, zoals Stéphane dat al wist uit zijn dromen. Samen proberen ze hun leven weer normaal te krijgen: de moordenaar gevonden, de dromen gestopt. Maar of dat zal lukken?

Het verhaal stoelt op het concept van de ring van Möbius en het is erg moeilijk om uit te leggen hoe dat werkt in deze thriller. Stéphane verdeelt zichzelf in een Stévroeger, een Sténu en een Stélater. In de droom ziet de Sténu de Stélater en probeert hem zover te krijgen dat hij boodschappen achterlaat. Op die manier zou de huidige Stéphane de toekomst kunnen beïnvloeden. Als hij immers andere handelingen uitvoert dan in zijn droom te zien zijn, dan moet alles veranderen. De vraag in dit boek is of het werkt. Kan de toekomst veranderd worden? Kun je het lot, het noodlot voor zijn?

Ik moet zeggen dat het een erg spannend verhaal oplevert dat je niet zo maar tussen neus en lippen door leest. Eigenlijk zou dit concept een totaal ander boek opgeleverd kunnen hebben. Het gaat erom hoe je de verschillende tijdlijnen uit elkaar houdt of in elkaar laat grijpen. Dat Thilliez er een thriller van heeft gemaakt, is zijn eigen invulling. Jammer dat het einde toch wat onwaarschijnlijk wordt.


ISBN 9789021803654 | Paperback | 445 pagina's | Sijthoff | april 2010
Vertaald door Richard Kwakkel
© Marjo, 3 oktober 2011
Lees de reacties op het forum en/of reageer, klik HIER
---