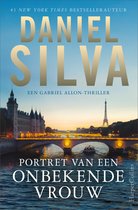 Portret van een onbekende vrouw
Een Gabriel Allon-thriller
Daniel Silva

Gabriel Allon, de bekende Israëlische spion, is het vorige boek met pensioen gegaan. Hij woont in Venetië met zijn vrouw Chiara en hun twee kinderen en is van plan een rustiger leven te gaan leiden. Hij wil zich bezig houden met schilderen, hij is immers restaurateur (om onbekende redenen in dit boek steeds als restaurator gespeld). Hij is dus wel bekend met de kunstwereld, en heeft er ook vrienden.

Als Julian Isherwood, kunsthandelaar in Londen, zijn hulp inroept, kan Allon niet weigeren.
Julian heeft een brief gekregen van een Française, die in het verleden een schilderij gekocht heeft bij hem, en tot haar grote verbazing ziet dat het schilderij opnieuw op de markt is. En dat terwijl het bij haar thuis aan de muur hangt…
Julian accepteert de uitnodiging om naar Frankrijk te komen, maar zit tevergeefs op haar te wachten. Als hij de ontmoetingsplek verlaat raast er een motor op hem af. Was dit een moordaanslag?
Gabriel Allon krijgt dan een telefoontje en hoort het intrigerende verhaal van zijn vriend aan.
Zo raakt hij verzeild in een wervelend avontuur dat draait om al of niet vervalste kunstwerken.

Zoals lezers van Daniel Silva gewend zijn wordt er heel veel heen en weer gereisd, geluncht en gedineerd op de meest luxueuze plekken, dus gesmeten met geld. In de kunsthandel gaat dat om miljoenen alsof het niets is. Waar zoveel geld is, tiert ook de misdaad. Belangen moeten immers beschermd worden, dus ach, als er dan iemand uit de weg geruimd moet worden…
Ook Allon en zijn medeplichtigen in het onderzoek dat volgt lopen gevaar.

'Omdat je een risico vormde voor een bende vervalsers?'
'Het is niet zomaar een bende. Het is een geraffineerde handelsonderneming die de markt overspoelt met hoogwaardige vervalsingen. En de man die het allemaal runt verdient genoeg geld om professionals in te huren en iedereen die een risico vormt uit de weg te laten ruimen.'

Daniel Silva heeft een aparte laconieke stijl, met spitse dialogen. Ondanks de vele personages en al die locaties vlieg je door het verhaal, om alleen af en toe wat meer aandacht te besteden aan beschrijvingen van hoe het er aan toe gaat in de kunst- en bankwereld. En er is altijd de bekende fijne humor:

'We hebben kennelijk veel met elkaar gemeen.'
'Wat vervelend voor u.'

Het maakt dus weinig uit of Gabriel Allon werkzaam is als spion, of schilderijen restaureert: zijn leven verloopt niet rustig. Hij heeft ook nog steeds de hulp nodig van zijn vroegere collega's, waardoor er bekende namen terugkomen. Nog los van al die natuurlijk mooie verleidelijke vrouwen die zijn pad kruisen. Al met al weer een heerlijk Gabriel Allonthriller.

Daniel Silva (Michigan, 1960) is een Amerikaans thrillerauteur van voornamelijk spionagethrillers. Hij was voordien werkzaam als journalist.

ISBN 9789402711448 | paperback |480 pagina's | Uitgeverij HarperCollins | november 2022
© Marjo, 9 februari 2023
Lees de reacties op het forum en/of reageer, klik HIER