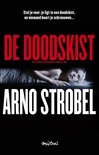 De doodskist
Arno Strobel

Als kind al heeft Eva wel eens perioden gehad dat ze er even niet was, stukjes uit haar leven zijn verdwenen. Waarschijnlijk is ze een gevoelig kind, leed ze aan slaapwandelen en had ze dagdromen. Maar nu heeft Eva wel heel levendige nachtmerries: ze droomde dat ze opgesloten was in een doodskist, niemand hoorde haar schreeuwen, ze was gedoemd een gruwelijke dood te sterven.
Het zijn eigenaardige nachtmerries. Hoe kan het dat als ze wakker wordt, ze diverse verwondingen heeft? Haar vingers zijn kapot, ze zit onder de krassen en blauwe plekken, haar hele lijf doet zeer. Het is zo echt...
Maar het is niet Eva die het overkomt, het is haar halfzus, Inge, die gevonden wordt in een doodskist. En daarna vindt men nog andere vrouwen, die allemaal min of meer hetzelfde lot hebben ondergaan. Hebben die ook een link met Eva? Wie stuurt haar die waarschuwingen?

Inspecteur Menkhoff is degene die de zaak krijgt toegewezen. In verband met persoonlijke problemen, weet zijn chef niet zeker of hij deze zaak, waarbij de moordenaar duidelijk een psychopaat moet zijn, wel aan kan. Natuurlijk kan hij dat wel, vindt Menkhoff.
In de loop van zijn onderzoek komt hij Eva natuurlijk vragen stellen in verband met haar zus, maar heeft geen idee van haar dromen. Dat heeft Eva's vriendin, Wiebke, wél. Ze dringt er op aan dat Eva een psychiater raadpleegt. Ze gaat naar hem toe, maar verlaat zijn spreekkamer eigenlijk zonder dat ze precies heeft verteld wat er aan de hand is. Hij bezoekt haar thuis en zal daar vreselijk spijt van krijgen.
Intussen duikt de inspecteur in het wespennest dat Eva's familie is, en ontsluiert diverse geheimen, dingen waar zelfs Eva geen weet van heeft.
Naast Eva en de inspecteur volgt de lezer ook Britta, een eenzame vrouw die blijkbaar weet wie de dader is, maar er niet over peinst hem aan te geven. Ze is bang.
Daar heeft ze dan ook alle reden voor...

Erg spannende thriller, van een Duitse schrijver, die al zeven boeken heeft geschreven, die ik niet ken. Ik weet niet of inspecteur Menkhoff in eerdere boeken voorkomt, maar die indruk krijg ik wel. Af en toe lijkt het alsof Strobel veronderstelt dat dingen bekend zijn bij de lezer. Het is geen onpersoonlijke politieman, en zijn verhaal zou best in komende boeken verder kunnen gaan.
Maar de plot in dit verhaal is afgerond. Het is een spannende thriller, en al krijg je op tweederde van het boek al wel enig idee hoe de vork in elkaar steekt - die ontknoping is in mijn ogen wat makkelijk - je moet natuurlijk wel doorlezen om het zeker te weten.

ISBN 9789048818440 | paperback | 348 pagina's | Mistral | oktober 2013
Vertaald uit het Duits door Corry van Bree
© Marjo, 13 november 2013
Lees de reacties op het forum en/of reageer, klik HIER
---