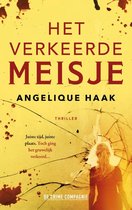 Het verkeerde meisje
Angelique Haak

'Ik was, zoals ze dat zeggen, op de verkeerde tijd op de verkeerde plaats. Zo zou ik dat zelf voorheen ook gezegd kunnen hebben. Nu vind ik werkelijk alles aan dat zinnetje verkeerd. Ik was op de juiste tijd op de juiste plaats!'

Helaas bevindt Amelie zich als ze deze gedachte heeft, wel degelijk op de verkeerde plek! Ze is ergens waar het stikdonker is en ijskoud. Ze vindt geen uitgang, en zal maar al te gauw ontdekken dat degene die haar daar opgesloten heeft ook helemaal niet van plan is haar vrij te laten. Ook niet als ze het vermoeden heeft dat zij 'het verkeerde meisje' is.
Of gaat het hem om losgeld? Haar vader is rijk. Zit haar echtgenoot er misschien achter? Ze heeft hem net laten weten dat ze wil scheiden en ze weet dat hij diep in de schulden zit en dat dus niet wil.
Maar verkeerd meisje of niet: ze is niet van plan zich zomaar aan die man met de bivakmuts over te geven! Ze zoekt een uitweg!

In de andere verhaallijn spreekt de dader. Het moet een intelligent persoon zijn, als je zijn beschouwingen leest over hoe het komt dat iemand vervalt tot crimineel gedrag. Is het jong aangeleerd? Is het aangeboren? Een combinatie?
Hij vertelt het verhaal over zijn eenzame jeugd, met zijn vader, een politieman, op de boerderij. De moeder is verdwenen.

Het boek is opgebouwd uit drie delen waarbij het eerste zowat de helft van het boek beslaat. Dat is het stuk met de twee verhaallijnen die niet synchroon in de tijd verlopen, maar die wel onmiskenbaar in elkaar haken. Dat is heel knap gedaan!
Dat deel een ineens ophoudt is verwarrend: wat komt er dan nog na dat eerste stuk?
En dan is er zoals gezegd nog een derde deel. En een epiloog. Angelique Haak maakt het de lezer niet makkelijk.

Naast deze boeiende en verrassende opbouw, zit het verhaal ook stilistisch keurig in elkaar, geen overbodige, maar wel rake beschrijvingen.
Het knappe van deze thriller is dit: waar de meeste thrillers vanuit een plot toewerken naar een – meestal - goede afloop, pakt Angelique Haak dat anders aan. Heel anders! Ze zegt dan ook ergens: 'Alleen in slechte misdaadverhalen worden op de laatste bladzijden altijd alle losse eindjes afgewerkt'.

Angelique Haak laat de lezer zweven in het ongewisse. Steeds word je op een verkeerd been gezet, denk je te zien hoe het zit, blijkt dat helemaal niet te kunnen! Verrassende plotwendingen dus, en een verhaal dat soms best luguber is, zodat je even naar adem moet happen. Tegelijk wil je natuurlijk doorlezen!
Bedenk wel: dit is een thriller die zeker niet voor softies geschreven is!

Angelique Haak (1978) volgde een opleiding tot schoonheidsspecialiste/nagelstyliste en werkte als administratief medewerkster. De stap om te gaan schrijven was dus een flinke stap, maar die leidde al bij haar debuutthriller Een nieuw begin, tot een nominatie voor de Schaduwprijs. Het verkeerde meisje is haar vijfde thriller.
Een mooie uitgave: niet goud op snede, maar wel geel. En een mooie omslag.

ISBN 9789461096159 | paperback | 320 pagina's | Uitgeverij Crime Compagnie| juni 2022
© Marjo, 3 augustus 2022
Lees de reacties op het forum, klik HIER